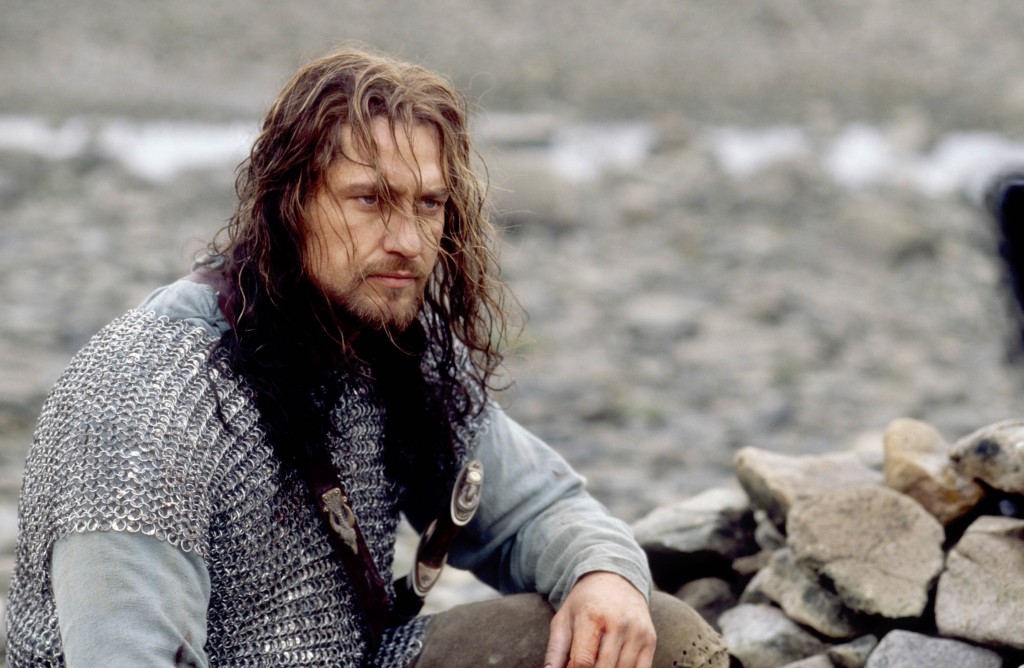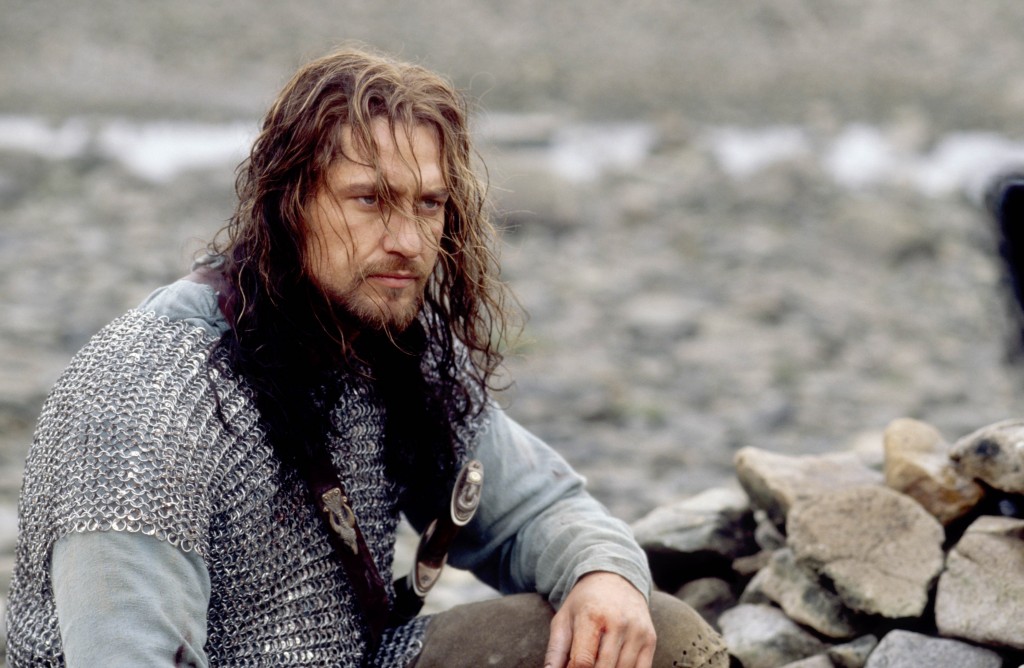 Gerard Butler is Beowulf
"Beowulf is the Hercules of his culture, although he's mortal," says Berzins.
A tremendous legend has built up around him and by the time the story starts, he feels a little bit defined by it. There are no more adversaries, but he is too young to hang up his sword. When he hears that Hrothgar, the Danish king who had befriended his father in a time of great need, is unable to withstand a murderous troll rampaging through his kingdom, Beowulf seizes the opportunity and comes across the ocean from what we now know as Sweden. His quest is both honourable and self-serving – he is repaying an old debt and hoping to gain new glory.
"Beowulf sees killing as a necessary evil, but it's something he's done a lot of," says Gerard Butler, cast as the legendary warrior. "He's made many people suffer and will do it again with a viciousness, but he sees the folly of it all. There is one line, where he is speaking with bandits, and says, "This is my life, a bloody madness." There's also the part of Beowulf that I love, the part that is crazy and is violent, that enjoys the idea of taking on a foe. It's an issue of strength and violence – whoever will win, will win and whoever doesn't, will be cut to pieces and crushed."
Beowulf remembers Hrothgar as a father figure and a great and powerful king, reasonable and good. 'When Beowulf arrives, he finds this drunken, broken king. It breaks Beowulf's heart, but it infuriates him because he senses that Hrothgar isn't telling him the whole truth," Butler continues. " Their first night there, when the troll comes and pisses on the door of the Mead Hall instead of fighting them, Beowulf is humiliated in front of the people he came to rescue."
"What I love about this story is that it never goes the way you expect," says Butler who is plainly captivated by his character. "It's a very cool story, rich and unusual. It also has such a melancholy, but truthful message about the lack of understanding for anything different. It gets to the stage where Beowulf has no idea what is going on because for the first time, he has underestimated a foe who is actually very intelligent and is proving to be, in his own right, a great warrior. As he moves along this inevitable course of conflict and battle, he's fed bits of information and begins to wonder if this is something he really wants to fight. The hero quest is turned on its head because the foe won't behave like a foe. The question Beowulf then must ask and answer is – why?"
What Gunnarsson loved about Gerard Butler was that he could ably embody the most difficult character in the story. "Gerry is charismatic and complex. He's a subtle  actor who looks good in chain mail and knows how to swing a sword. Plus he has that beautiful Scottish dialect that has old Norse bred into it.  By the end of the Pagan era of many gods and the beginning of the Christian era, you have a shifting moral and value system that comes into play. Gerry charts those changes beautifully. He brought depth and nuance to a character who, for centuries, has been two dimensional."
Gerard BUTLER'S rise to success has been swift. The Scottish born actor starred as André Marek in Michael Critchon's Timeline, and as Angelina Jolie's love interest in Tomb Raider 2. Dear Frankie premiered at the 2004 Tribeca Film Festival to rave reviews for his performance. Butler then starred in Joel Schumacher's blockbuster, The Phantom of the Opera in which he starred as the Phantom, and The Game of their Lives, directed by David Anspaugh in which he plays soccer player, Frank Borghi. Butler will soon be seen in the lead role of the poet Robert Burns in Burns, opposite Julia Stiles. He is currently shooting the feature film 300, based on Frank Miller's graphic novel, which concerns the 480 B.C. Battle of Thermopylae, where the King of Sparta led his army against the advancing Persians.