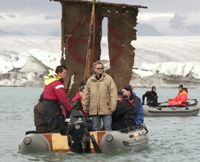 "You have to be a little bit nuts to make any movie" says director Sturla Gunnarsson in an interview with Scott Rosenberg. MORE HERE
The movie, filmed without CGI on location in Iceland, hosts a true international cast starring Scottish born Gerard Butler ('Phantom of the Opera'), as Beowulf, Iceland's leading actor Ingvar Sigurdsson ('K-19: The Widowmaker') as Grendel, Swedish born  Stellan Skarsgard ('Dogville') as king Hrothgar and Canadian born Sarah Polley ('Away From Her') as the pagan witch Selma.
Director Gunnarsson, dubbed Canada's resident "Viking", was born in Iceland, raised in Vancouver, and shot films in India, South Africa, Mexico, Central America, the United States and Canada.