BEOWULF & GRENDEL TRAILER
Beowulf & Grendel starring Gerard Butler, Stellan Skarsgård, Sarah Polley, Ingvar Sigurdsson, Tony Curran and Eddie Marsan. Directed by Sturla Gunnarsson. Music by Hilmar Orn Hilmarsson. Available through Amazon.com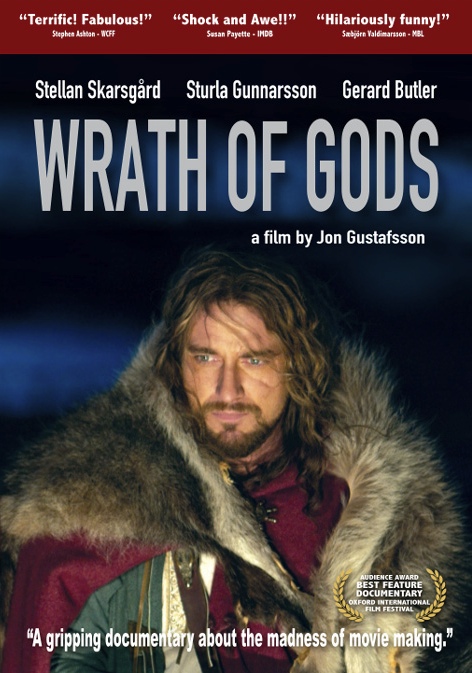 Gerard Butler in award winning documentary about filmmaking directed by Jon Gustafsson. DVD Includes two hours of bonus materials, including one hour exclusive interview with Gerard Butler.
GRENDEL EATS THE BOX
by Marcus Robinson
Director Sturla Gunnarsson's Canada/U.K./Iceland copro Beowulf & Grendel has easily held the top spot in box office among Canadian films since its release on March 10.
BUTLER FANS FLOCK NORTH TO SEE
BEOWULF & GRENDEL
The Toronto Star has discovered that Gerard Butler has many devoted fans south of the border, and many of them have gone to great length to be able to see Beowulf and Grendel.
BEOWULF & GRENDEL SELLS OUT
SARASOTA FESTIVAL
Beowulf and Grendel was a smash hit at the Sarasota Film Festival. B&G was the only film at the festival to be shown 3 times with all 3 dates being sold out prior to screening. This U.S. appearance comes as the film begins it's 5th week in Canadian theatres.
Read the full article on MOVIESONLINE.ca
BEOWULF & GRENDEL SELLS OUT IN SEATTLE
Both screenings of BEOWULF & GRENDEL have sold out at the SEATTLE INTERNATIONAL FILM FESTIVAL. The screenings will take place on June 8 and June 10. Director Sturla Gunnarsson is scheduled to attend the June 8 screening.
BEOWULF SAILS SOUTH
The Film Works, Eurasia Motion Pictures and Goodweird are pleased to announce an agreement with Union Station Media, a joint venture of Alliance Atlantis and Arclight Films International, for the U.S. theatrical release of Beowulf & Grendl, directed by Sturla Gunnarsson and written by Andrew Rai Berzins.   The film opens in six US cities, including New York, Los Angeles, Chicago, Boston, Seattle and San Francisco, starting on June 16. Star Gerard Butler will be making extensive appearances to promote the release – and appease his fans.
"We're very happy with this deal", says producer Eric Jordan.  "Equinoxe did a great job with the film in Canada. The Canadian release proved that people want to see this film on the big screen.  U.S. fans mounted an intense Internet campaign to bring the film south, and when they started chartering buses to see it in Canada, Union Station took notice."
Following a successful theatrical release of Beowulf & Grendel across Canada, Equinoxe Releasing is sending out a custom-boxed DVD of the film on July 18. In anticipation of the July release, Beowulf aficionados and Gerard Butler's many, insatiable fans have already driven the DVD to the top 5 of the Amazon.ca's bestseller list.
Beowulf & Grendel, starring Gerard Butler, Stellan Skarsgård and Sarah Polley, is adapted from the seminal 9thcentury epic poem Beowulf, which tells the bloody tale of the warrior Beowulf's battle with Grendel, a great and murderous troll.
THE BLOOD OF A POEM
"It's good, bloody fun that stirs the intellect whenever it feels like it, and as a swashbuckler, the dead-game Butler outswings just about anyone in Troy or Kingdom of Heaven or Tristan & Isolde. Those overblown historical epics played just as loosely with history as this one does, but they didn't boast a third of its bawdy, sly humor." says Bill Gallo in The Village Voice
Read the full VILLAGE VOICE review
BEOWULF & GRENDEL ON MONSTERSANDCRITICS.COM
"You have to be a little bit nuts to make any movie" says director Sturla Gunnarsson in an interview with Scott Rosenberg.
The movie, filmed without CGI on location in Iceland, hosts a true international cast starring Scottish born Gerard Butler ('Phantom of the Opera'), as Beowulf, Iceland's leading actor Ingvar Sigurdsson ('K-19: The Widowmaker') as Grendel, Swedish born Stellan Skarsgard ('Dogville') as king Hrothgar and Canadian born Sarah Polley ('Away From Her') as the pagan witch Selma.
Director Gunnarsson, dubbed Canada's resident "Viking", was born in Iceland, raised in Vancouver, and shot films in India, South Africa, Mexico, Central America, the United States and Canada.